Donald Platt's piece, "Essential Tremor" reads like a paternal seismograph. It has a performative patience, but still runs like a rabbit. Poetry typically slows me to a prayer's crawl – this piece does something of both: it's a hybrid of breath and speed. The form is arrow-matic, and brightly confessional.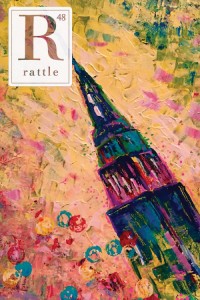 To enjoy Platt's piece, and many others for barely $6, buy Rattle's Summer 2015 Issue Here
This 50 word review is part of a series of short-form glimpses into contemporary works of poetry.