Ed Steck's 2014 pamphlet from COR&P will translate REM-sleep cycles into longitudinal word equations for you. The work is an unearthing of ephemeral neural networks, an insomniac charting territories around thought-patterns, an embodied record of disregarded taxonomies within consciousness. I enjoyed the non-linear cycling immensely. A portrait of a brain.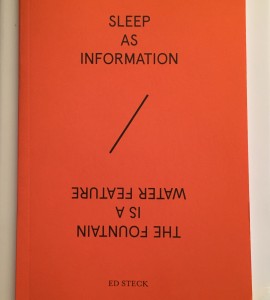 Buy this limited edition book direct from COR&P – The Center for Ongoing Research & Projects.
This 50 word review is part of a series of short-form glimpses into contemporary works of poetry.